Oeno-cultural workshops at La Cité du Vin
A glass of wine in markets of the world, the new, world-first multi-sensory experience, and Upside-down, a tasting workshop for everyone: visitors can now book tickets on site or on the website www.laciteduvin.com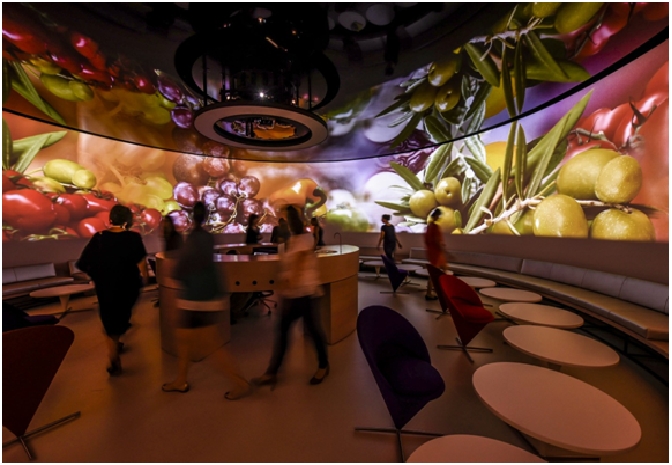 The multi-sensory experience A glass of wine in markets of the world
From July 1st, every day at 11am, 2pm, and 5pm – Multi-sensory space
Reservation at the desk or online, at www.laciteduvin.com
In La Cité du Vin's multi-sensory space, visitors will be immersed in images projected on a 360° screen, lights, sounds, and smells, for 1 hr 30. In a great voyage to the heart of the world's markets, visitors will experience a unique wine tasting with virtual food pairings and real wine. This experience is the only one of its kind in the world, a tasting which will awaken the five senses. This workshop is run by a moderator.
The discovery workshop Upside Down
From July 1st, every day at 11am, 2pm, and 5pm – Discovery workshop
Reservation at the desk or online, at www.laciteduvin.com 
This hour-long workshop is for everyone, breaking the rules of traditional wine tasting, awakening all of the senses. Visitors, beginners or novices, will discover that wine tasting is within everyone's reach. This workshop is run by a moderator.
And coming very soon:
Every day at 2pm during the summer holidays, Wake up to the benefits of an afternoon nap!:
Vineyard siestas are coming to La Cité du Vin. Tucked away from view, letting you discover your biological clock. Based on an original idea from the Cité des Sciences et de l'Industrie.
From July 14th: family and junior workshops, every day at 3pm, with activities suitable for the whole family.