Penfolds presenta dos decantadores de lujo, uno de seis litros, para su Grange 2012
Para celebrar la salida de su vino icónico Grange en su añada 2012, Penfolds presenta dos decantadores de lujo, uno de seis litros. Será la primera vez que este vino es embotellado en una botella de seis litros, 'imperial', decantadores que se ha diseñado específicamente para ese formato.
Hecha por uno de los fabricantes de vidrio más antiguos de Europa, Saint-Louis, el 'Penfolds Aevum Imperial Servicio Ritual' es un decantador de cristal de seis litros montado en un soporte gitatorio. Sólo cinco de estos decantadores se han producido, presentándose dos en sociedad. El precio al por menor de AU $ 185,000 (£ 115,400) incluye un imperial de 2012 Grange.
Para las botellas más 'comunes' de este vino Grange 2012, hay un decantador de cristal de 750 ml, realizado por Saint-Louis artesanos soplado a mano. Otra joya para los amantes del vino pero bastante más asequible.
Sólo se han fabricado un número limitado y sólo está disponible para ser comprado junto a una botella de 2012 Grange, con un precio de venta combinado de alrededor de £ 1.200, exclusivamente en Harrods.
No es que sea un precio al alcance de todos, pero al menos es más asequible que el decantador de 6 litros.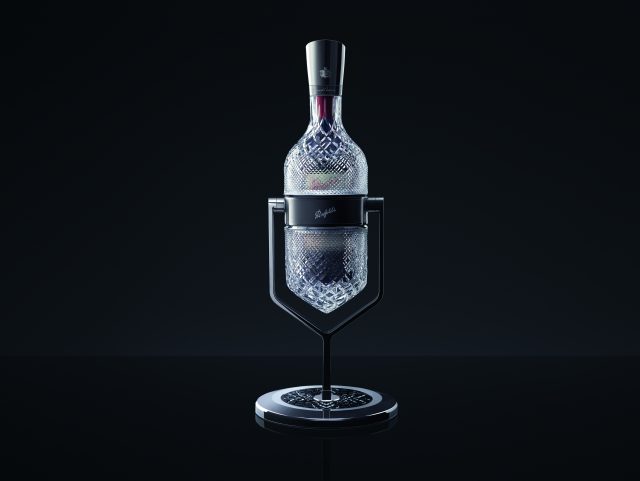 Today Penfolds is celebrating a collaboration with Europe's most respected French glassmaker, Saint-Louis to acknowledge the art and culture of a service ritual long associated with the flagship Grange. This collaboration also recognises the first commercial release of only five 2012 Grange Imperial 6 litre bottles available on the planet.
The distinctive hand-made crystal objet d'art service vessel, Penfolds Aevum Imperial Service Ritual, was designed exclusively for the 2012 Grange Imperial. It precisely balances and elevates the Imperial to facilitate the perfect pour. This statuesque design reflects a powerful and passionate union and painstaking hours of crafting and refining the perfect piece. It also ratifies Penfolds reputation of innovation and experimentation while respecting customs of the past and the rarity and splendour of every drop of Grange.
"Care, double decanting and ceremony is woven into the fabric of Penfolds and transcends the ordinary. The elevation of the service ritual by way of the Penfolds Aevum Imperial Service Ritual enhances the enjoyment of Grange to release aromas and flavours through aeration, and importantly delivers an unforgettable visual experience and sense of occasion," says Peter Gago, Penfolds Chief Winemaker.
This is the first time Saint-Louis, who has been making handcrafted crystal objects in France since 1586, has collaborated with a global brand outside of Europe.
"When talent, heritage and know how come together, the journey from craft to ritual can be truly extraordinary. The collaboration between Penfolds and Saint-Louis represents a marriage of two masters of their crafts. This is the first time something of this calibre has taken place and the first time that we have collaborated with a winemaker at this level," says Jérôme de Lavergnolle, Chief Executive Officer of Saint-Louis.
As part of the collaboration, a limited edition release of smaller sculptured decanters Penfolds Aevum Crystal Decanter, accompany the 750ml 2012 Grange and are also available. Each decanter features the striking diamond cut, a signature hallmark of Saint-Louis. Hand-blown, hand crafted.
2012 Grange leads The Penfolds Collection 2016, a family of fine wines released annually from Penfolds. The Penfolds Collection 2016 is made up of 19 wines spanning five different vintages. Available from Thursday 20th October.